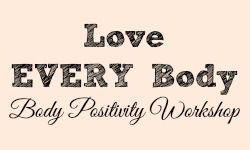 Love EVERY Body is a monthly body positivity workshop, set up by the absolutely fabulous Leah, FOR ALL BODY SIZES where we will attempt to slowly chip away at the body snark which permeates the media, water cooler conversations at work, and so many of women's thoughts.  You can find more info on the workshop here.
This month we are talking about our legs and feet.  What can I say,  my legs are short and fat (remember I am only 4ft10ins) and my feet are small (UK size 3-4) and fat…. Lol!  I get my legs from my Grandad's side of the family, where they were tall and slim but appeared to have short dumpy legs in comparison.  Why oh why did the big man upstairs have to get it so wrong, as the legs on my nan's side of the family were slim and shapely but their bodies were short and round…. Haha!  All so muddled up.  But nevermind….
I think we tend to take our old legs and feet a bit for granted, we expect them to take us everywhere, but what time do we really give them???  No wonder mine are always trying to give me gentle reminders that they are there by getting hot and swelling up from time to time…..
All that said, in the last 3 years I would say, I have come to grow quite fond of my curvy calves, I'm not so keen on my dimply knees and dimply thighs, so as a rule I will keep them covered from the knee up, but here is a sneaky pic of all of my legs and feet which I took this weekend whilst I was away partying (sorry for the poor quality – it seems Travelodge's don't give the best lighting)….
And at my desk yesterday (better quality, but you may need your shades)
Back in  my heady young days, I got me a little dolphin tat on my left ankle…. This is obviously still with me today, and here is a snap I took to show you.  In hindsight, I am unsure that this is one of my best moves, but at the time I was very impressed with it, and at least I didn't go for something I completely hate…..
How do you feel about your legs & feet?
Please check out the others participating in this amazing workshop for some more inspiration:
I have entered my blog for "Best Newcomer" in the Cosmo Blog Awards with Next 2014 as we are less than 12 months old…. If you enjoy my ramblings, I would really appreciate it if you could take the time to give me a little vote…. Follow the link here: http://www.next.co.uk/cosmo-blog-awards/
If you have liked what you have read today and would like to be kept up to date with future posts, follow me here: Facebook / Twitter / Instagram / Tumblr / Bloglovin'
BIG Love S x