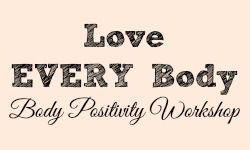 Love EVERY Body is a monthly body positivity workshop, set up by the absolutely fabulous Leah, FOR ALL BODY SIZES where we will attempt to slowly chip away at the body snark which permeates the media, water cooler conversations at work, and so many of women's thoughts.  You can find more info on the workshop here.
I have just joined this month, having read about it over on Leah's blog and thinking what an amazing workshop and wanting to be part of it, but I do intend to catch up with the previous three in due course:
December – Write a letter to your body
January – From the neck up
February – Arms. shoulders & hands
But in the meantime, here is March's assignment, and what an apt assignment for me:
March 2014 Assignment #4 – Chest/boobs. Are you happy with your chest/boobs? Maybe you've had surgery (mastectomy/boob job.) Maybe you feel your boobs are too big or too small, or less than perky from breast feeding, but they're perfect as they are. I don't expect naked boobie shots, but I might put a photo in of my cleavage!
So what are my chesticles like….. Mahoosive!! Most recent measure was 2011 and came in at a whopping 38HH, but I think I am due a check.  I've always been, some would say blessed, but I would say cursed at times, with big bazookers, and was one of the first, if not the first, at school to have to wear a bra (I have a feeling I was as young as 9yrs/10yrs).
They have made buying clothes difficult as the bottom half of me ends up being smaller than the top half, so finding dresses to fit everywhere has been an issue at times, and it is only recently, with the likes of Bravissimo and Curvy Kate, that I have actually been able to find pretty over shoulder boulder holders, before this us larger chested ladies only had old granny bra's to choose from.
When I was younger they had a habit of attracting the wrong attention, but now I embrace this…. If you've got it flaunt it and all that, and any bit of attention at my age is gratefully receive…. Lol!  They still get in the way when eating food, and I do have to tuck the serviette in to my top when we go out for dinner, otherwise I can end up wearing my food!
They make fabulous cushions for those who fancy a cuddle and little bit of snooze….. and can house anything from a pint glass to a bottle of wine when out on a night with the girls (just a little party piece of mine).
The only time I wasn't overly happy with the Elmer Fudds was back when I was approximately 18 yrs old…. I lost some weight, 4.5st (albeit I was not has big as I am now), and although they maintained a reasonable size, without support they did resemble a couple of saggy cows udders!!!!  For me, this is a very good reason, along with a list of others I have, for cultivating my curves!!
Considering the size of the puppies, I feel that my nipples are small in comparison, but then these days there are not many people other than the hubby and myself that have see them, so as long as he is happy with them, and I'm pretty sure he is, so am I.
Overall the Phil Mitchell's are one of my preferred parts of my body and are definitely a very BIG part of who I am since I was a teen to the 40 year old I will be in June!
Here are some of the best pics I have to give you an idea of the AMAZING cleavage I have.  Yes…. I am PLUS SIZE but I am very PROUD!
Embrace your boobs, big, small, saggy, pert, big nipples, small nipples, whatever they are they are part of you, and you are beautiful!
Please check out the others participating in this amazing workshop for some more inspiration:
If you have liked what you have read today and would like to be kept up to date with future posts, follow me here: Facebook / Twitter / Instagram / Tumblr / Bloglovin'
BIG Love
S x